September 22, 2015 (Stone Mountain, GA) — AMES Taping Tools, the leading provider of automatic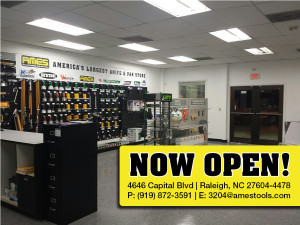 taping and finishing (ATF) tools, supplies and training to the professional drywall finishing industry, is pleased to announce the grand opening of its newest location in Raleigh, North Carolina. "We always look forward to opening the doors at a new location," explains Dan Hughes, AMES Regional Vice President – South.  "By opening this newest location in the Raleigh market, we continue our efforts to eliminate lost job time for customers having to find their tools and supplies at multiple locations."
The addition of the Raleigh location brings AMES to 65 corporate stores and 44 franchise locations. Located at 4646 Capital Blvd, the new store provides rental service for their complete line of AMES' automatic taping and finishing tools. The store also sells the company's TapeTech line of ATF tools as well as an assortment of associated drywall products, merchandise and hand tools.
# # #
About AMES Taping Tools
Headquartered in Stone Mountain, Georgia, AMES Taping Tools is the industry's leading provider of drywall finishing tools, supplies and training. AMES invented the automatic taping and finishing tool technology in 1939 and improved it with the introduction of the Bazooka in the 1950's.  This technology dramatically improves the speed, quality and efficiency of the professional finisher.  AMES supplies, supports and services residential and commercial interior finishing applications through a network of company-owned and franchise operations across the U.S. and Canada. For more information, visit amestools.com or call 800-241-2771.
Product demonstrations and informational videos are available online at www.youtube.com/user/AMESTapingTools