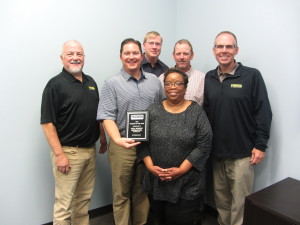 October 27, 2015 (Stone Mountain, GA) — AMES Taping Tools, the leading provider of automatic taping and finishing (ATF) tools and supplies to the professional drywall finishing industry, has recently presented their inaugural Vendor of the Year award to Tool Source Warehouse (www.tswfast.com) in Tucker, GA.
Selected unanimously by AMES executive staff and field team, Tool Source Warehouse's partnership and passion for being a better, faster and reliable resource for the company's 65 store locations nationwide has confirmed AMES' confidence in presenting this award at a recent joint meeting held at Tool Source Warehouse.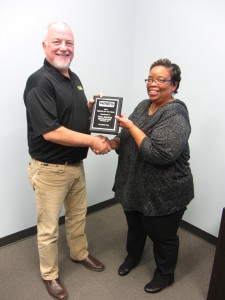 "We've been working with the team at Tool Source Warehouse for years now and it is an honor to be able to publically recognize all the hard work and passion that they've put into our partnership together," says Russ Goerlitz, Director of Merchandising for AMES Taping Tools. "Polling our stores nationwide, there were nothing but great comments and feedback about their relationship with Tool Source Warehouse and we look forward to continued growth together to be industry leaders."
Russ Goerlitz – Director of Merchandising with AMES Taping Tools, presented the award to Lori Moore – Sales Supervisor/National Accounts Manager in addition to Brian Bannon – General Manager, Harvey Barker – Sales & Marketing Manager and Alex Miller – IT Manager.
# # #
About AMES Taping Tools
Headquartered in Stone Mountain, Georgia, AMES Taping Tools is the industry's leading provider of drywall finishing tools, supplies and training. AMES invented the automatic taping and finishing tool technology in 1939 and improved it with the introduction of the Bazooka in the 1950's. This technology dramatically improves the speed, quality and efficiency of the professional finisher. AMES supplies, supports and services residential and commercial interior finishing applications through a network of company-owned and franchise operations across the U.S. and Canada.